Get your fill of Kudzu jelly, candles, locally made soaps, miniature cotton bales and all the postcards of local sites you can handle at the Mississippi Gift Shop. We would be happy to ship! Call us at (662) 252-3669 to purchase.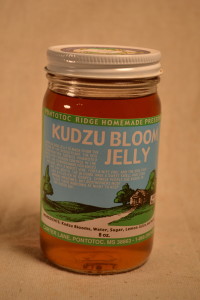 Kudzu Bloom Jelly $8.50

Homemade Preserves from the bloom of the ever-present Kudzu Plant…brought here as an ill-fated soil erosion control effort. The bloom makes a fine  base for a preserve! Eat it…don't plant it – comes in  8 oz. jars. Price: $8.50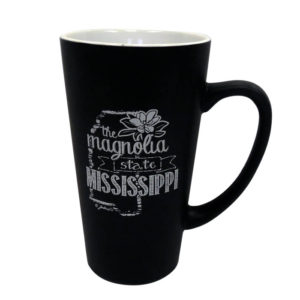 Mississippi Ceramic Latte Mug (14oz)  $12.00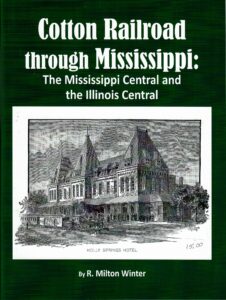 Cotton Railroad Through Mississippi: The Mississippi Central and the Illinois Central
This new book by Milton Winter, "Cotton Railroad Through Mississippi: The Mississippi Central and the Illinois Central", is the first full-scale, authoritative history of a key link in America's transportation network from the years just before the Civil War until the 21st century. Price 15.00.

Cotton Bales
Large Cotton Bale. This is an authentic bale of cotton in miniature – grown and "baled" in Mississippi. This measures @ 7" x 4 ½" x 3 ½" and would make a great bookend or shelf display. Price: $14.00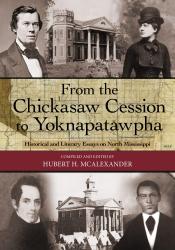 From the Chickasaw Cession to Yoknapatawhpa by Hubert McAlexander
From the Chickasaw Cession to Yoknapatawhpa: Historical Essays on North Mississippi is a collection of essays and documents written by Mississippians over the years, a mosaic that tells the story of the settlement and growth of North Mississippi and explores its literary significance. The fullest of the five sections is devoted to the Chickasaw Cession. We see the mix of native people and settlers, and learn the early history of the twelve counties. The second section offers views of the fabled ante-bellum Plantation Period, and the third, of the Civil War in three counties. The last two sections are devoted to the texture of life, the issue of race, and the region's literary significance, particularly through Faulkner's creation of Yoknapatawpha.  Price 24.95.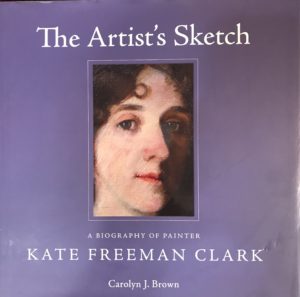 "The Artist's Sketch" A Biography Kate Freeman Clark
Holly Springs native  Kate Freeman Clark (1875-1957) left behind over one thousand paintings now stored at a gallery bearing her name in her hometown of Holly Springs, Mississippi. But it was not until after her death in 1957 at the age of eighty-one that citizens even discovered that she was a painter of considerable stature. In her will, Clark left the city her family home, her paintings stored at a warehouse in New York for over forty years, and money to build a gallery, much to the surprise of the Holly Springs community.  Price $35.00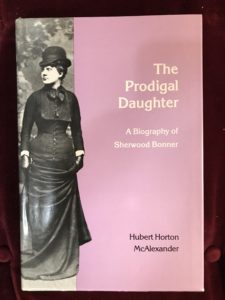 "The Prodigal Daughter" A Biography of Sherwood Bonner
Sometimes enigmatic and often shocking, Sherwood Bonner (Katharine Bonner McDowell, 1849–1883) defied accepted notions of what she ought or ought not to be. Born into the Holly Springs, Mississippi planter aristocracy, she married at age twenty-two and bore a child. Less than two years later, however, she left her husband, daughter, and native state to pursue education in Boston and fulfill her ambition of becoming a writer.
Bonner was befriended by Henry Wadsworth Longellow, who became her mentor and patron, and by James Redpath, a fellow conspirator of John Brown and one of the era's leading radicals. During her short life, Bonner produced short stories, the novel Like Unto Like (1878), and the novella The Valours (1881). She faded into obscurity after her death, but in recent years her work has been rediscovered—thanks in large part to this scrupulously researched biography, which was first published in 1981.   Price $24.99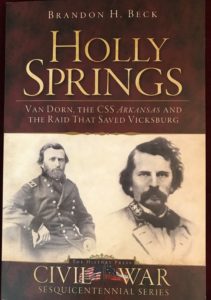 "Holly Springs" Van Dorn the CSS Arkansas and the Raid that Saved Vicksburg 
Midway between Memphis and New Orleans along the Mississippi River, Vicksburg was essential to both Confederate and Union campaigns. With both sides bent on claiming the city, Vicksburg, and the fate of the nation, lay in the balance. General Ulysses S. Grant began his campaign on the city in November 1862, but he was forced to abandon the operation in December when the fiery General Earl Van Dorn made a daring raid on Grant's main supply depot at Holly Springs, Mississippi. With the help of the CSS Arkansas, Van Dorn's single day raid on Grant's supply base saved Vicksburg from Grant's forces for an entire year. Historian Brandon H. Beck recounts the tactics, leaders, and legends involved in this exciting, if overlooked, chapter of Civil War history.    Price $19.99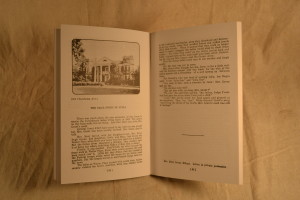 "It Happened Here" True Stories of Holly Springs
A most intriguing collection of stories, originally published in 1950 by Olga Reed Pruitt, a writer with the old Memphis Press Scimitar. Ms. Pruitt, taken by the town of Holly Spring's history, character and the plethora of stories involving places, people – both famous and infamous and events which comprise the unique tapestry that is our town. Price: $5.00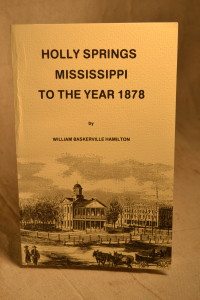 "Holly Springs Mississippi to the Year 1878"
By William Baskerville Hamilton who researched and chronicled the many aspects of Holly Springs' early settlement and its architectural, social, political and military history until the Yellow Fever Epidemic of 1878, from which many feel, the town never quite recovered from.  Price: $5.00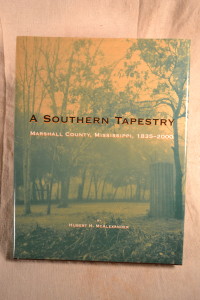 "A Southern Tapestry" Marshall County, Mississippi, 1835 – 2000
By Dr. Hubert H. McAlexander, who through this well-researched tome with numerous photographs and illustrations, gives us the definitive history of Marshall County, Mississippi by weaving an insider's perspective on its almost defiant beginnings with the intertwined social history of a proud old plantation town, told through its myriad stories of valor, stories scandal and tragedy. its significant architectural development. Price: $20.00
Holly Springs Historic Architecture Series by Hamilton Brooks
Fine series of hand drawings done in 1990 of Holly Springs' renowned inventory of historic architecture. Comes in a set of three frame-able prints; most are signed & numbered by the artist.
"The Class of 1912"
By Inez Berryhill Adams, a graduate of the Mississippi Synodical College (MSC), an educational institution that was a prominent fixture in Holly Springs from 1903 until 1938, when it merged with Belhaven College in Jackson. MSC was a world to itself here in Holly Springs for the young women who attended there and Ms. Adams' memoir gives us a view into that world which seems so remote from our time today. Price: $9.95